SAGE-ING
with Creative Spirit, Grace & Gratitude
||
The Journal of Creative Aging
---
We hope you feel moved to share your story with the Journal and help us spread our message of creative well being for individuals and their communities. Download our Submission Guidelines
HERE
---
Current Issue, Number 42, Fall 2022: click on the cover to view the Contents, and to view/download a PDF.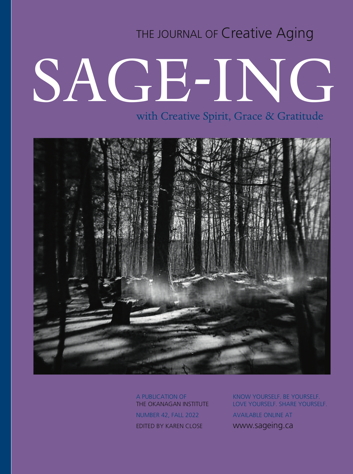 ---
Previous Issues: click on the covers below to view the Contents of each issue, and to view/download a PDF.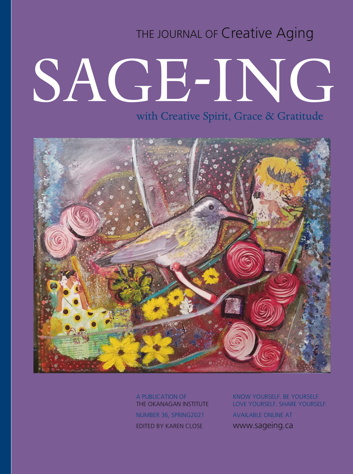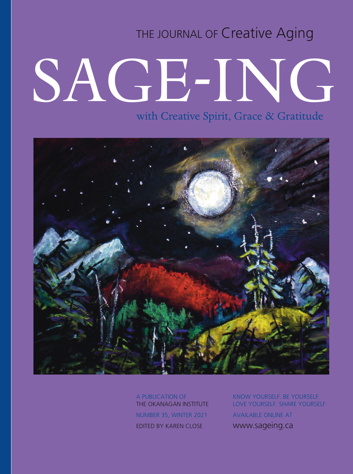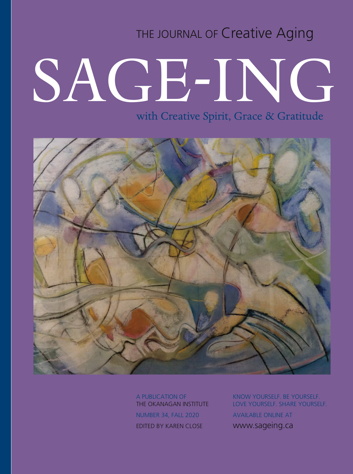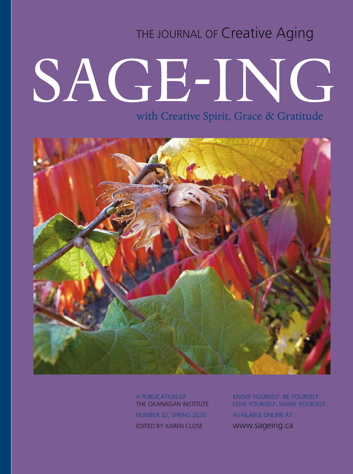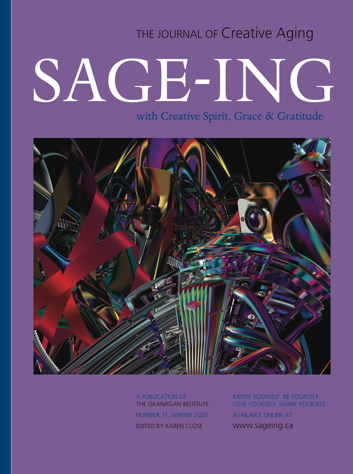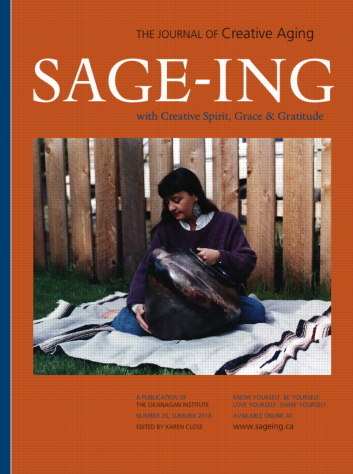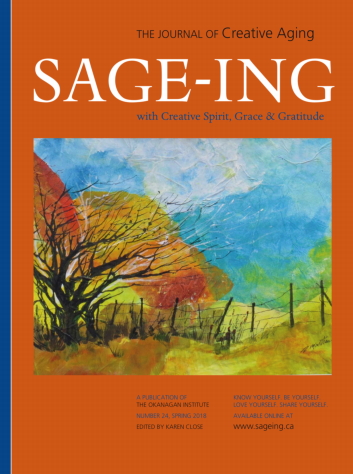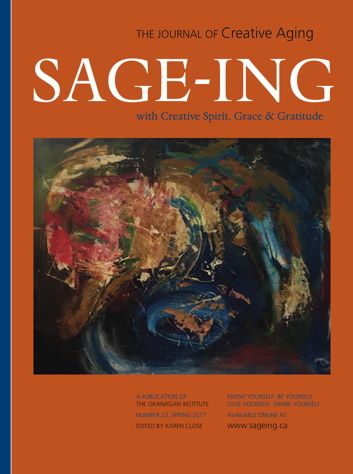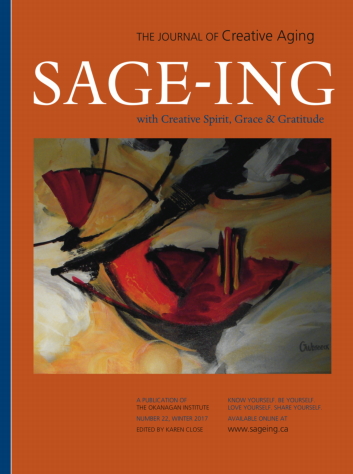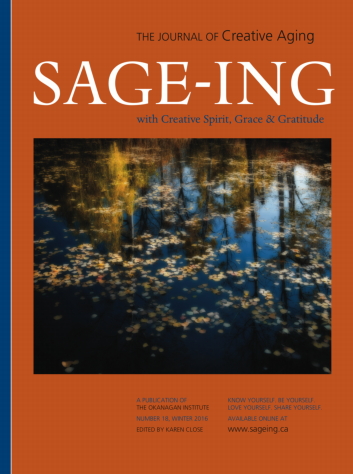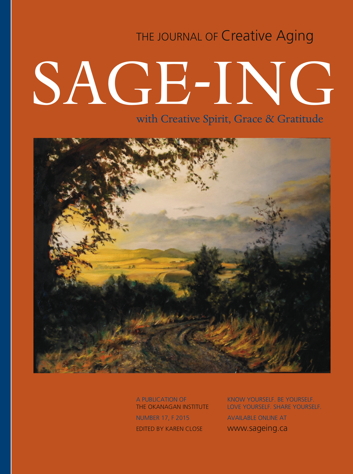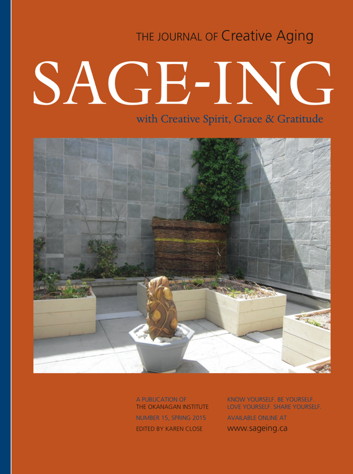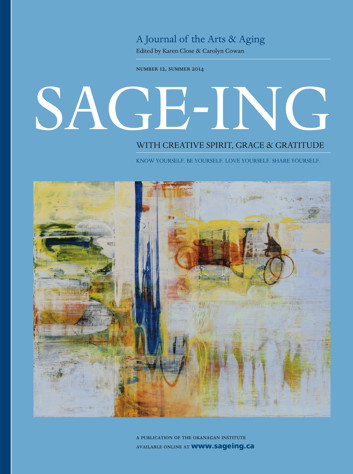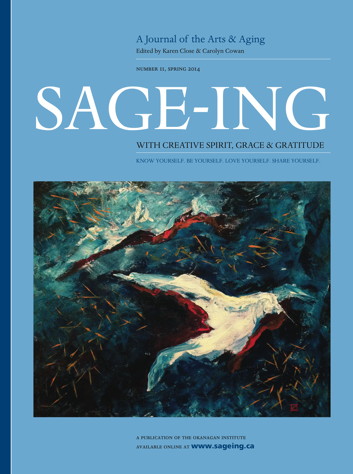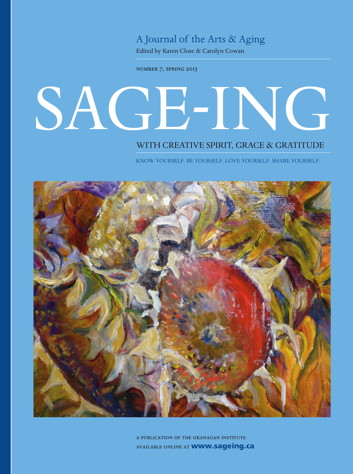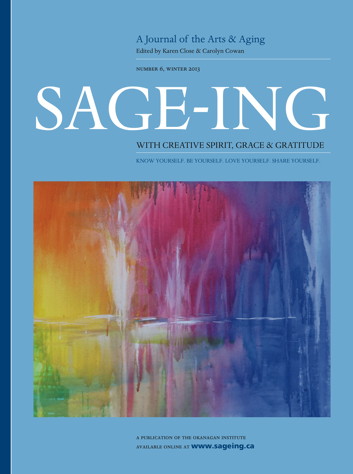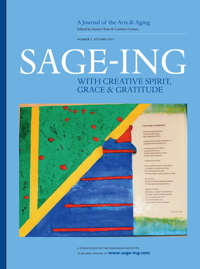 ---
THE JOURNAL
Sage-ing with Creative Spirit, Grace & Gratitude, the Journal of Creative Aging, exists to honour the transformational power of creativity. We are an occasional - usually quarterly - journal intended as an initiative for collaboration and sharing. We present the opportunity for the free exchange of wisdom gleaned from creative engagement. We invite all ages to contribute their discoveries.
Sage-ing is about seeking - satisfying inner gnawing and transforming it to knowing and action. Ageing can be alchemy when one allows the realisation that to Know Thyself and contribute that knowing to our culture is indeed one of life's highest purposes. That knowing brings the gratitude, grace and integrity that a life deserves. The creative journey into self is a strong aid to health and wellbeing for the individual and to our culture.
The journal exists for all those serious in exploring their creativity, in a chosen expression. It is a forum for publication and exposure to other artists, both novice and established. The journal is an easel for any form of artistry undertaken out of personal intuition and imagination.
---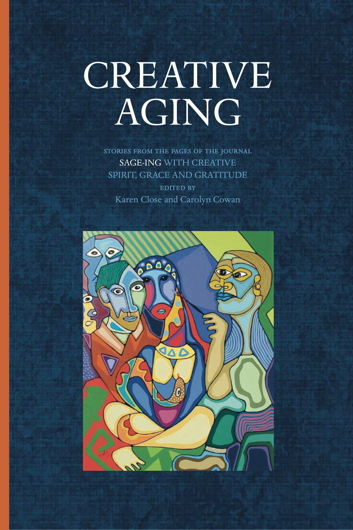 THE BOOK
Creative Aging is a powerful new social and cultural movement that is stirring the imaginations of communities and people everywhere.
Often called Sage-ing, Creative Aging takes many forms: academic, social and personal. It includes festivals, conferences, classes, group sessions and individual creative pursuits. "Creation brings a renewed excitement to everyday life. It's something to look forward to and lose yourself in. The creative way to wellness is guilt free. You deserve to treat your brain, your body, your inner self and the soul in a respectful way, remembering that we are all born with talent and to be creators. It's up to you to find your way. Start by putting art into your daily routine, like having your morning coffee or walking the dog." - Linda Lovisa.
The book Creative Aging brings together more than 50 essays and galleries of images that showcase the power of the imagination expressed and enjoyed.
Published by Wood Lake Publishing in association with the Okanagan Institute. Available online from Wood Lake Publishing at www.woodlake.com
---
Home

||

Subscribe

||

Email Us

||

Submissions

||

A publication of the Okanagan Institute

---
KNOW YOURSELF. BE YOURSELF. LOVE YOURSELF. SHARE YOURSELF.